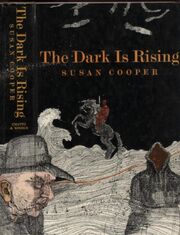 Artist, illustrator, and teacher Alan E. Cober (18 May 1935 - 17 January 1998) studied at the University of Vermont, the School of Visual Arts in Manhattan, and the Pratt Graphics Center. After a brief spell as a men's fashion illustrator, Cober moved into newspaper, magazine, and book illustration. He taught at the Silvermine College of Art, Parson's School of Design, the University of Buffalo, the University of Georgia, and the Ringling School of Art and Design.
Cober provided the dustwrapper art and three double-page spread black and white illustrations for the 1st edition of The Dark is Rising.
References
Obituary from University of Buffalo News [1]
Ad blocker interference detected!
Wikia is a free-to-use site that makes money from advertising. We have a modified experience for viewers using ad blockers

Wikia is not accessible if you've made further modifications. Remove the custom ad blocker rule(s) and the page will load as expected.