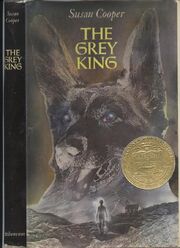 Michael Peter Heslop also known as Mike Heslop illustrated the 1st US editions of Greenwitch (1974), The Grey King (1975) and Silver on the Tree (1977). His illustrations were also used for the dustwrappers of the UK 1st editions published by Chatto & Windus in the same years. Heslop is not the rock musician of the same name.
The first US edition of The Grey King has two double-page spread monochrome illustrations by Michael Heslop as well as the dustwrapper art shown here. Not having seen the US editions of the other titles it is a simple presumption that these would also have contained illustrations in the same manner.
Ad blocker interference detected!
Wikia is a free-to-use site that makes money from advertising. We have a modified experience for viewers using ad blockers

Wikia is not accessible if you've made further modifications. Remove the custom ad blocker rule(s) and the page will load as expected.