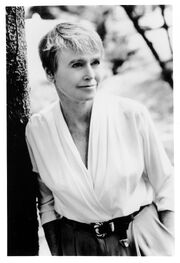 Susan Mary Cooper
Born: May 23, 1935, Burnham, Buckinghamshire, England
Resides: Connecticut, USA
Biography
Susan Cooper was born in Burnham, Buckinghamshire, England, May 1935 to John Richard, a Great Western Railway employee, and Ethel May Cooper, a teacher. She has one younger brother, also a writer, Roderick Cooper. After graduating from Slough High School she attended Somerville College, Oxford University, where she was the editor of the school magazine, Cherwell. She graduated with an MA in English in 1956, and proceeded to work for The Sunday Times in London as a reporter and feature writer under Ian Fleming.
In 1963 Cooper left England for America where she married Nicholas J. Grant, on August 3, 1963. In 1983, the pair separated.
In 1996 she married again, this time to longtime colleague Hume Cronyn, who passed away in 2003.
Cooper has two children, Jonathan and Katharine.
Awards
Newbery Honor citation, The Dark Is Rising
Newbery Medal, The Grey King
Tir na n-Og Award, The Grey King
Tir na n-Og Award, Silver on the Tree
Janusz Korczak Literary Prize for Seaward
Bibliography
The Dark is Rising Sequence
Picture books
Jethro and the Jumbie (1979)
The Silver Cow (1983)
The Selkie Girl (1986)
Matthew's Dragon (1991)
Tam Lin (1991)
Danny and the Kings (1993)
Frog (2002)
The Magician's Boy (2005)
Plays & Films
Foxfire (1982)
The Dollmaker (1984)
To Dance With the White Dog (?)
Other
Mandrake (1964)
Dawn of Fear (1970)
Seaward (1983)
The Boggart (1993)
Dreams and Wishes (1996)
The Boggart and the Monster (1997)
King of Shadows (1998)
Green Boy (2002)
Victory (2006)
Ad blocker interference detected!
Wikia is a free-to-use site that makes money from advertising. We have a modified experience for viewers using ad blockers

Wikia is not accessible if you've made further modifications. Remove the custom ad blocker rule(s) and the page will load as expected.